The Fixtures/Draw for this season are now available online on the QCSA website. The season commences on Saturday 26/04/2014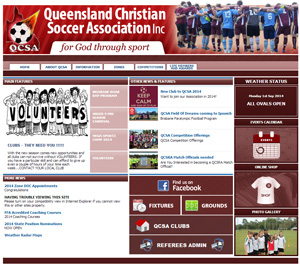 Please check online for any problems we may have missed. If you need assistance finding your way around the site please let me know or check with your team manager.
This is also the website you need to check if there is wet weather and you are uncertain if your match is on. Please still consult with your team manager as well. The rule is if there is nothing on the website saying your game is cancelled or field is closed GO TO YOUR GAME!
UNDER NO CIRCUMSTANCES SHOULD PARENTS, PLAYERS OR YOUR TEAM OFFICIALS CONTACT THE QCSA DIRECTLY ABOUT WET WEATHER AND IF GAMES ARE STILL ON.
The home team is now required to say a prayer before the match can commence. If you have someone who is comfortable to say a few words then please use them. Alternatively, I as President suggest the following:- "May the game be played in the spirit it is meant to be, May all players remain injury free".
Cameron