What a fabulous and unforgettable June long weekend the Boonah 'Da Booms' Under 16 girls have had. Without the sponsorship and generous support given to us by Boonah Carrying Co, Boonah Hardware Mitre 10 and Cahill Building Contractors, along with Da Boom families support, we would not have been able to nominate our team to try out for the National team.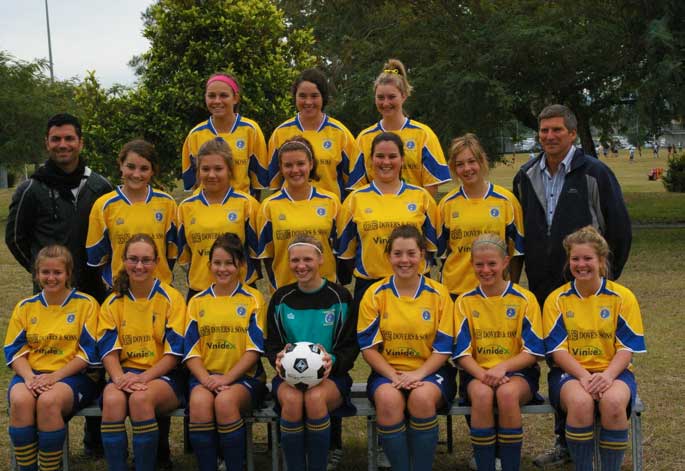 Da Booms Team- Front row: Hayley McLaren, Madeline Schumacher, Tegan Renz, Jennifer Burgess, Sara Hass,  Makarla Bell, Ainsley McLaren, Middle: Coach Nic Comino, Ruby Spillman, Tahleia Strang, Kimberley Cahill, Emma Cahill, Jessica Milano, Phillip Cahill,  Back: Dimity Comino, Molly Last, Samantha Conochie.
Action from last weekend's under 16 Daboom girls.
A first for QCSA
This is the first year in the history of Queensland Christian Soccer that the Association has had an under 16 girls team and boys team, in club soccer, state titles, and nationals, as we were invited by QSCA to play as a team, we wanted to be a part of it all. The State Titles were held over 3 days at Redbank Plains.
Friday night game
Our first game was on Friday night against Norths. Everyone arrived unsure what to expect, however we were all very excited and our spirits were flying. We played under lights for the first time ever and every one of the Da Boom girls were firing! The girls were very strong in both attacking and defence, rewarding us with our first win for the carnival, 4/nil. Our support group of friends and family cheered the girls on which helped to keep us all warm on a chilly night.
Saturday games
Saturday morning loomed grey and chilly and everyone arrived early rugged up with coats, blankets, scarves and beanies. On Saturday Da Boom played three very hard games. The first game against Wests was tight with the girls losing 2/1. This did not drop the girls' spirits as they dusted this off and went out to play again with the determination to get control of the ball. The 2nd game was against Easts with a convincing win 5 nil. The last game for the day and probably the hardest as the girls were starting to run out of energy was against Wests again with a nil all draw. We were very proud of the girls' games and their performance as a team. They worked in together, helped and supported each other both on and off the field. Not only that, they have respect for their opposition. Lucky for us all, there was no Soccer on Sunday, the girls were very tired and needed a much earned rest for the day.
Monday games
Monday arrived bright and sunny; the girls were both excited and anxious about the day ahead. The first game was against East, which was a tough game on sore bodies and spectators' nerves. The final score for this game was nil all. The girls had a three hour break before the second and final game for the weekend. It was off to the lolly shop for a quick fix on sugar. They had a great chill out time as a team. Also time to watch some other games on the fields around them. Then it was time to concentrate on the job ahead. The team we played was Norths which was another hard game, with both teams scoring one goal each, resulting in another tied game.
Overall winners
The final part of the weekend was the presentation and naming of the 2011 State team for Under 16 Girls. Da Booms were very ecstatic to be announced the overall winners for the Under 16 girls, by 1 point. Congratulations Da Booms you have zoomed.
State Reps
Excitement peaked as four of our team members were selected to represent Queensland in Newcastle at the end of September for National Titles. Kimberley Cahill, Dimity Comino, Ainsley McLaren and Ruby Spillman are all off to Newcastle to compete at the next level. Congratulations girls, well done.
Thanks
A very big thank you to the girls for the way you have conducted yourself on and off the field so far this year. Each and every one of you should be very proud, as we parents are. Thank you to the amazing cheer squad for your great support and encouragement for the team. Thank you coach Nic for your coaching skills and your time and effort you put in each week, we really appreciate it. Thankyou Phillip for stepping in and helping with the girls over this fabulous weekend. Parents thank you for your total support and team work, and once again big thanks to our Sponsors for your support.