Who runs the Boonah Soccer Club?
The Boonah Soccer club is a voluntary community association run by parents and interested community members and is affiliated with the Queensland Christian Soccer Association (QCSA). When registering with this club, we require that you contribute to the maintenance and values of the club by complying with policies, procedures and codes of conduct.
We ask that you assist with various tasks throughout the season, this contribution is important to support the Club to ensure that all children enjoy their football safely, learn the game and benefit from playing a team sport.
BSC Committee meetings are held monthly – currently on the 2nd Tuesday of the month at 6.30pm at the Boonah Sports Complex. As a player or parent/caregiver of a player, you are a member of the club and are welcome to attend (parent/caregiver must sign membership application form at sign-on). We would love to hear your ideas and feedback!
Can I register online?
Yes, we offer online registration. If you have trouble registering online or are unable to for any reason, you can come along to one of the sigh-on days. Registering online will save a lot of time and there is no need to fill in forms. Your details are carried over each year so re-registering is made very simple.
Do I need to come to sign-on days?
Usually all players (new & existing) need to come to a sign-on day depending if they need to have a new photo taken and to sign the QCSA register. All new players will need also have their birth certificate sighted. Junior players will need to bring along a parent/caregiver. For information on the current season, visit our Register Online page.
What are the fees?
Current fees are displayed at http://www.boonahsoccerclub.org.au/register-online/
Will I need to travel to any games?
Yes, approximately half of the games are played away and the other half are played on our home fields in Boonah. This is for all age groups. Parents are responsible for their own transport or they can organise car-pooling with fellow team members.
U7 – U10 teams are part of the QCSA West Zone competition which includes clubs in Kalbar, various Ipswich locations, Redbank Plains, Lowood, Middle Park, West Brisbane, etc. Finals may sometimes be played at other locations.
U11 and over teams play in divisions and as well as the above locations may need to travel further afield which could include various Brisbane locations, Beaudesert, Logan and Caboolture.
What gear and uniform do I need?
The club colours are royal blue and gold. All players are provided with a team jersey, which must be returned at the end of the season. Jerseys are provided by our generous sponsors; please support them in your community.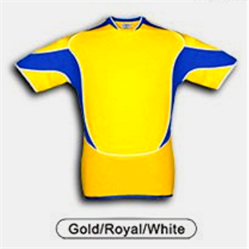 Players will need to buy royal blue shorts, club socks (royal blue socks with two gold stripes on the turnover), shin pads and soccer boots (no steel studs). These are available at Maynard's Store in Boonah.
Training shirts will be available for purchase at the club. Some pre-loved clothing, shin pads and boots are also available from the club house.
Who coaches and manages my team?
All teams need a manager and a coach which are usually interested parents of players in the team. Experience is not necessary and the club will support coaches and provide training when needed. All parents will be rostered to wash jerseys, bring fruit for the game and write match reports for the newspaper. Teams are responsible for putting up the nets and taking down the nets if they are the first or last games on for the day.
How do I know which age group my child will be in?
Players qualify for their age group based on their age as at 31 Dec last year. For example, a player in Under 9 must be 8 as at 31 Dec last year or in other words, turns 9 during the year they are playing in. The online registration system will put your child in the correct age group based on their date of birth.
Can my child play 'up' or 'down' an age group?
Only a limited number of children may play down an age group (according to QCSA regulations). Playing up may be considered depending on several factors such as player numbers, individual skill etc. This is at the discretion of the club. Occasionally players may be invited to play up or down an age group to allow for appropriate numbers in teams.
Can my child play with his/her school friends or sibling/s?
Generally we only take requests for siblings to play together or players who need to travel together. We will do our best to meet requests, although it may mean allocating a child to a lower or higher age group than may otherwise be the case.
When is training?
Team training will be one afternoon per week typically on Tuesday, Wednesday or Thursday but this may depend on when the coach and/or a field is available.
When are matches played?
All games are played on a Saturday (except Over 30 Men who play on Friday night). The youngest players usually play earlier in the morning and some older age groups may play in the afternoon but this can vary.
Further questions?
If you have any other questions not covered here, please check our Player/Caregiver info page or contact one of our committee members. Your team manager will also be able answer your questions or direct you to the relevant person.